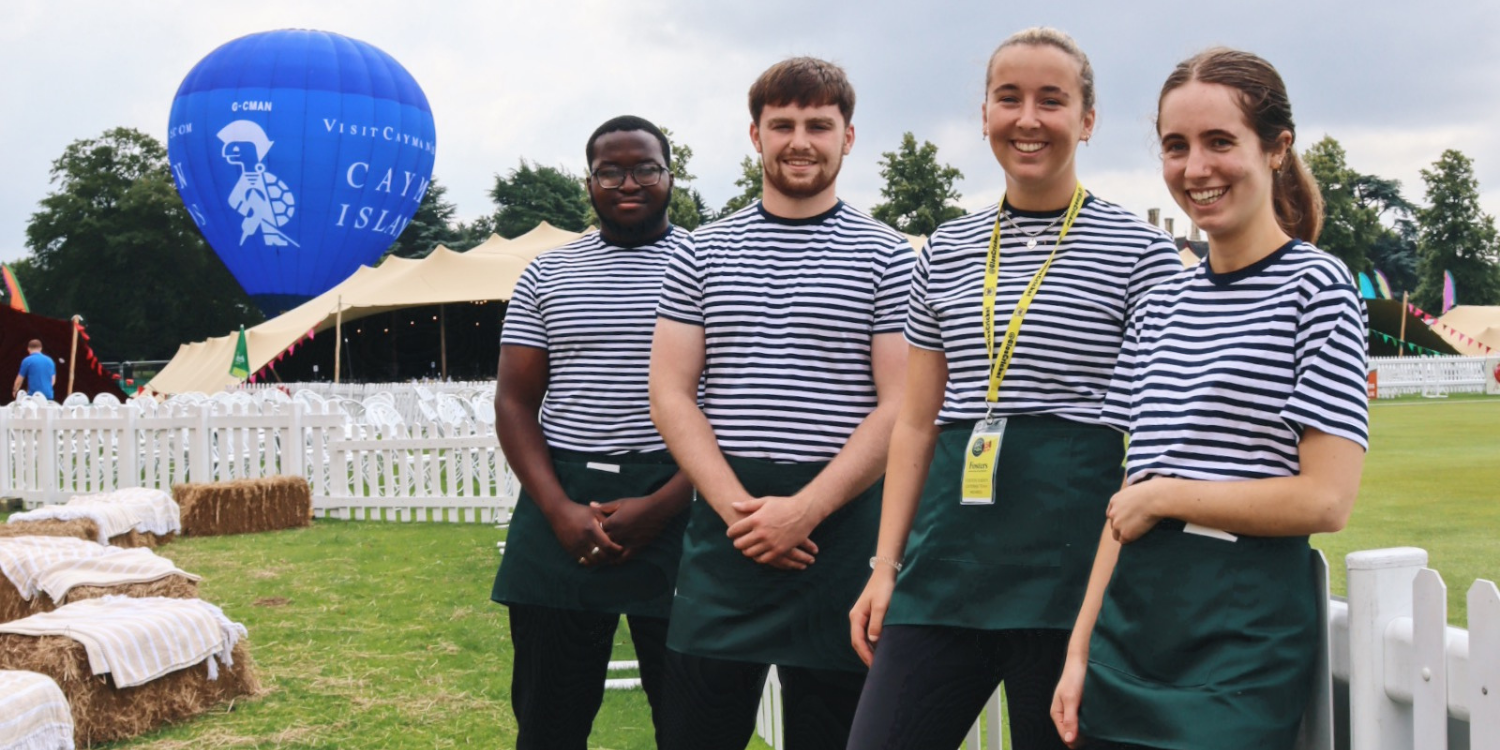 Behind the scenes at cheltenham cricket festival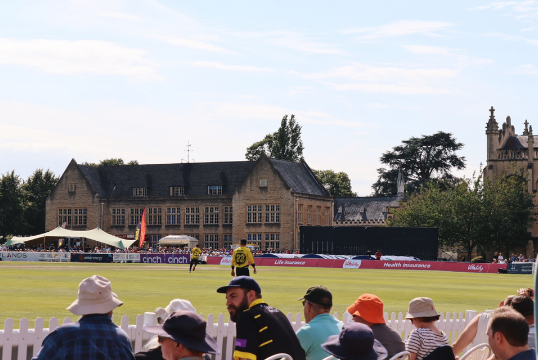 Welcoming the Return of Events
It is no secret that the current climate has resulted in a complete halt of all outdoor and indoor events, and therefore when the opportunity to proceed with this year's festival presented itself, we knew we had to give it everything and make up for the lost time across the last eighteen months. Having previously delivered the festival hospitality, this year, we at team Fosters took on everything and through working closely with Gloucestershire County Cricket designed a festival that could deliver some of that Cheltenham magic even in these strangest of times. 
 We more than anyone can see that we aren't out of the woods just yet; As the Coronavirus pandemic continues to create challenges for the events and hospitality industry, Cheltenham Cricket Festival has provided us with the opportunity to prove that our dedicated teams are still raring to go and with an artillery of talent and creativity that allows them to create the most engaging and fantastic events, no matter what the scale. Fosters is anchored by our promise to help create delicious memories, and it was a pure joy to finally return to high-volume events. 
Part of the challenge of hosting events in the current climate involves staying constantly abreast of government rules and regulations. We make sure the health and safety of our guests and teams is our utmost priority and so the added considerations have changed the way events and hospitality run at an operational level.  As well as this, for many attendees and club members this was their first big event post-pandemic.
We worked closely with Dynamic Stretch Tents, who provided the impressive tent structures that created a great space for guests and staff alike. A space that was covered but open on all sides to protect from the elements and keep guest covid safe and secure.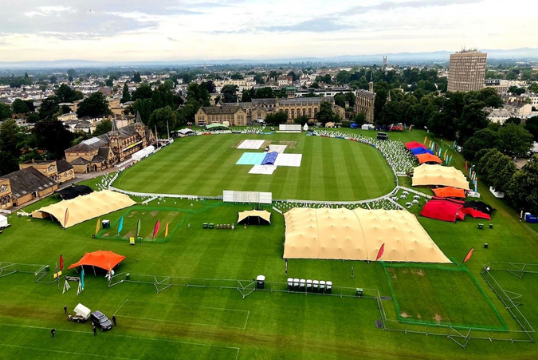 The Pig and Pallet
Perhaps one of Fosters' biggest achievements from the Cheltenham Cricket Festival is our creation of two fully operational pallet bars, designed and created in conjunction with The Bartender UK and fully installed with an amazing draught system from our drinks partners St Austell. 
It is part of Fosters' ethos to stay local and remain sustainable. Therefore, we sourced local pallets to help create the aesthetic for the bespoke public food offering; The Pig and Pallet, pop up pub!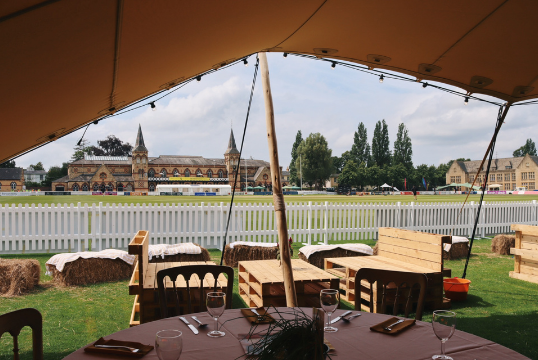 The Public catering offer was divided into two operations; a drinks bar and The Pig & Pallet, a relaxed and informal rustic seating hospitality tent, with speciality drinks including a local gin bar, Pimms and Aperol. The Pig and Pallet offered a two-course food menu, consisting of a deluxe grazing platter followed by a dessert of an Eton-mess inspired berry and meringue bowl. Quintessential English food! 
Just as importantly, The Pig and Pallet provided guests with all the drinks they could possibly need to feel refreshed throughout the festival. With an extensive menu, curated by our drinks partners, St Austell, there was something available for everyone; From regional Bath Gem to sparkling prosecco, Aperol Spritz to a full Tarquin's and Cotswolds gin bar. Our team pulled a whopping 18,000 pints throughout the duration of the festival -  that is over 200 kegs!
Committee, Premiere marquees and Player feeding
Not only did Fosters take on the task of designing two bespoke public offerings but also delivered on the club requirements with marquees hosting committee, and premiere spectators. We didn't just stop there either, as we looked after the players, hosting both home and away teams for each match.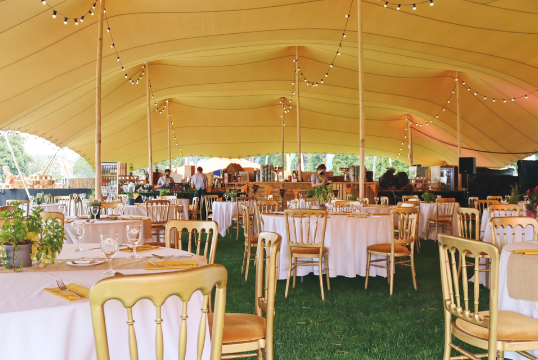 Hospitality Dining 
Last but not least, we created hospitality marquees hosting a range of business and private clients, some of which attend the festival year after year. New and revisiting hospitality diners were completely won over by the new format, and we were delighted to hear their feedback first hand. 
For these marquees we created a range of delicious plated dishes along with a complimenting drinks list of wine and other tasty tipples. These menus were a way to celebrate suppliers in the local Cheltenham and surrounding areas as a part of our Farm to Fosters ethos that we embody in every dish we produce. We sourced 30-day dry aged, cured Longhorn beef from Martin's Meats in Toddington and strawberries from Warren's Farm in Cheddar, amongst a whole range of other independent local suppliers who helped us curate a fantastic menu for the hospitality marquees.
The team created a supplier map for the tabletops to let our guests see exactly where their dishes had been sourced from, and demonstrated the thought, care, and consideration for local communities that inspire our menus: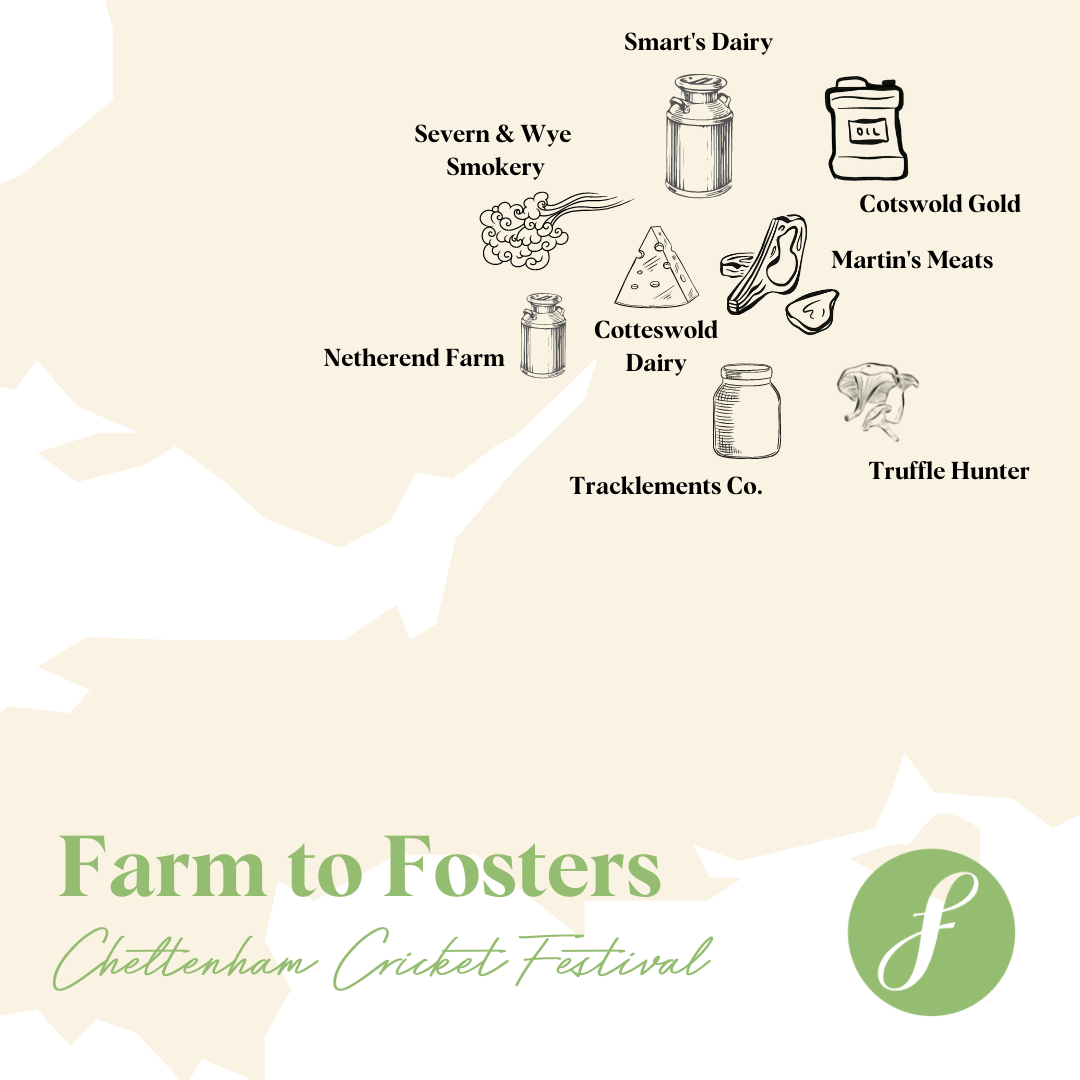 Loving what we do, for the right reasons…
Cheltenham Cricket Festival was  a huge achievement for the team here at Fosters, and particularly for our Operations Manager: Special Events and Projects Georgia, who dedicated a huge amount of time and effort into making sure our offering for this festival embodied Fosters' high standards of service from start to finish. Finding a moment in her busy schedule, Georgia spoke to us about the event and said: 
"The new format of the festival this year created a new set of challenges, especially considering the upheaval we have had to face over the past 18 months. It felt great to get completely stuck into creating a bespoke offering for this event and put a twist on the classic areas we have previously run. It finally feels like Fosters are getting back to doing what we love the most; creating the dream events that our clients and guests have waited so patiently to attend again. I'm so proud of the whole team, the fantastic front of house staff has really made this event the success it has been! Of course, it has been stressful at times but so rewarding all the same and it's been amazing watching the final product come together after so much planning."
"I'm so proud of the whole team, the fantastic front of house staff has really made this event the success it has been!"
On the ground at this event we had a group of over twenty wonderful full-time front of house staff, pouring pints, serving food, and ensuring all attendees were kept fueled with top quality food and drink. The staff number more than tripled for the large T20 games, and for the first time in a long time we really felt the full scale of what we had achieved! It goes without saying how professional and accommodating each and every one of the front of house team were, and how they so effortlessly adapted to running day-long events under the constraints of social distancing and mask wearing. We have received fantastic feedback from guests and contractors alike on the amazing team – it truly our people that make an event like this! 
Well done Team Fosters, here's to many more events!