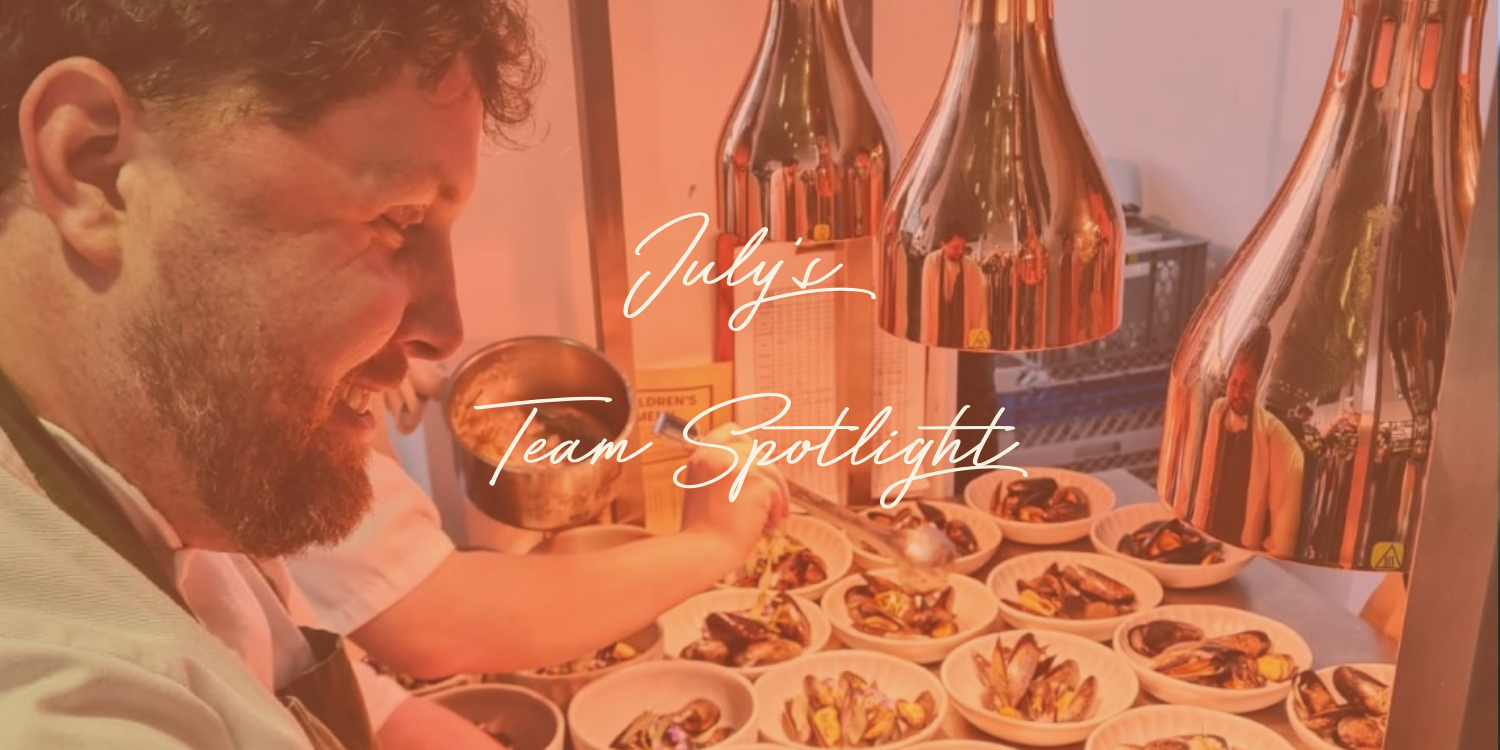 Ben Mack: Head chef at The Box Kitchen & bar
Team Tuesday is an opportunity for us to introduce you to the wonderful people who make up our Fosters team all across the UK. What we do, who we are, and the experiences we create span across venues, towns, and cities throughout the South West, and it's all down to the teams at each of those places that make it so special. Today we'd like to introduce Ben Mack, the incredibly talented and charismatic Head Chef of  The Box Kitchen & Bar, Plymouth. 
If you frequent our social channels, you'll notice we champion Ben rather a lot, and that's because he is a true talent that we feel very proud of. His passion is rooted in local and foraged ingredients, which he uses to design extraordinary menus that celebrate Plymouth and the South West for diners at The Box Kitchen & Bar.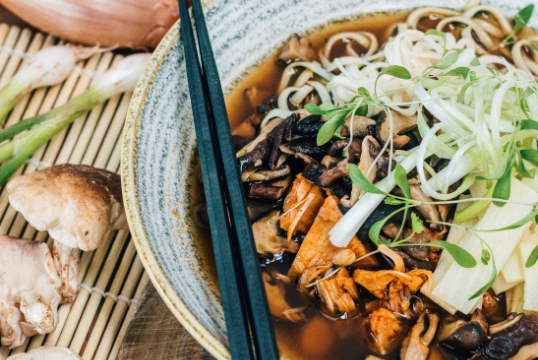 Ben has been cooking up an array of mouthwatering, fresh, and Devon-sourced dishes at The Box for the past year and a half. His skill for creating beautiful and delicious plates that don't compromise on flavour or staying true to sourcing within 20 miles, have made a huge impact, revitalising the food offering in The Kitchen & Bar and ensuring that ingredients and flavours encapsulate Fosters' ethical and sustainable ethos. Most recently, a diner said this of his menus: 
"An amazing set of flavours and care on one plate. Incredible value and the care and thought you put in your dishes is outstanding."
Music to Michelin 
Ben has an extensive and impressive history within the catering sphere, with much of his background being in Rosette and Michelin star restaurants. He got into cooking by accident, initially wanting to pursue a career in music after studying Sound Engineering at college. Working as a KP from the age of 15 he started helping out on cold food preparation and learnt some basic knife skills. Eventually, he was enjoying working in a kitchen so much that he decided to put down the mic, do a complete u-turn from his dream of being a roadie, and pursue working in a kitchen full-time. 
Ben says: "I was starting to appreciate the creative and artistic side of it [cooking] and learning so much about foods I'd always heard of but seemed like mythical stories...so I decided to go all in and go to Mars… I mean college!"
Before working at The Box in Plymouth, Ben had worked from many prestigious venues, including Marco Pierre White's Steakhouse Bar & Grill, River Cottage, and Michael Caines at the Royal Clarence. He has also assisted teams at The Gallery at The Westbury and The Grand Hotel in Torquay in gaining their first accolades.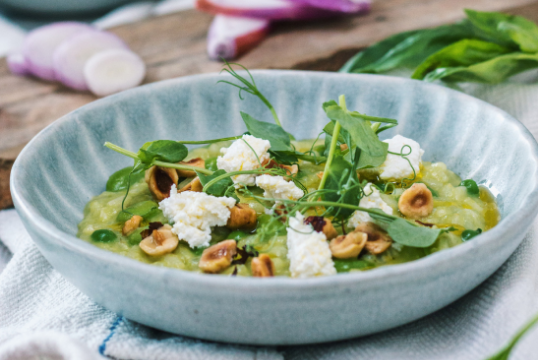 A True Master is always Learning
Ben says that he has gained invaluable experience everywhere he has worked in some way or another: 
He comments; "Like the old adage goes, there's more than one way to skin a cat". 
Moving to London proved to be an eye opening experience for him, as the food scene, produce, high standards, and sheer magnitude of the lifestyle and career he had entered into was a stark difference to everything he's known before. Ben was given access to an overwhelming amount of produce that he had never worked with before, and found it astounding that even some of the smaller restaurants in London were of a better standard and had more creative menus than even some of the larger and most popular ones from back home. 
Inspired Simplicity 
Although Ben says he doesn't have a favourite style of cooking and cuisine, he reflects on the joy he felt working in a high-end Italian restaurant;  He cites his appreciation for the simplicity of the cooking style and ingredients: "It's unfussy and clean. And there's never a compromise on the flavours!"
Similarly, River Cottage, and Hix in Soho, London, were two venues he similarly beamed about: "They served three items on a plate, but done to an extremely high standard and with such care. I really do enjoy a menu of simple and tasty produce that has been put together expertly."
Currently, Ben is enjoying playing around with ferments and homebrews, an emanation from his love of foraging and utilising what we can get from the land and the sea. This was expertly demonstrated at The Box when Ben held a Wild Nights Dinner using foraged ingredients from Plymouth - It was a smash hit, with people demanding it's return!
Ben likes cooking with ingredients that he is enjoying himself at the time, and draws inspiration from whatever piques his interest - almost creating his very own Zeitgeist for flavour! Classic flavour combinations are also a keen favourite of his, for example, beef and red wine, chicken and tarragon, shellfish and saffron. He will take these well-known combinations and then add his own instinctual textures, acidities, sweetness, or switches up the nutritional balance to create invigorated flavours. 
Ben comments:
 "I don't want to say I cook from the heart but I certainly cook with my brain and my childlike intrigue".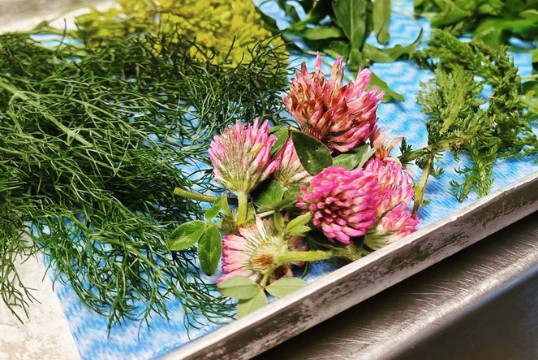 Recipe Favourites 
As with his style of cooking, Ben's favourite recipe changes all the time depending on his mood. One day it could be lamb spring rolls and another it might be a simple chicken jus or Moroccan spiced bread. 
Even after 22 years in the kitchen, he still gets great pleasure out of his recipes, and nine times out of ten, he finds that the best recipes are some of the simplest. He loves a straightforward charred asparagus with rapeseed, and hazelnut or basil mayo with lemon and chicken. One of our favourites here at Fosters is his delightfully yummy Dandelion Honey recipe, which he curated after foraging on the greenlands of Plymouth. He has kindly shared his recipe, which you can discover here: https://www.fostersevents.co.uk/blog/dandelion-honey/